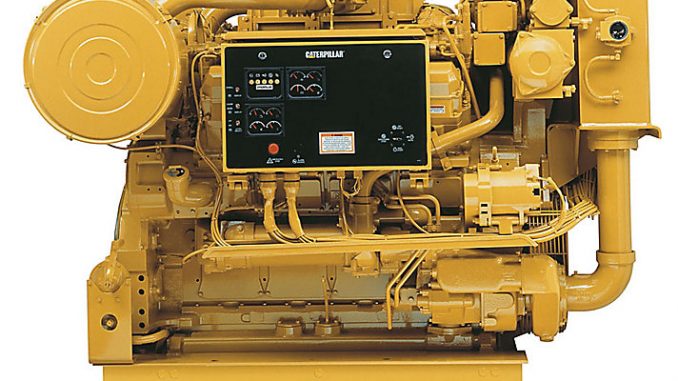 تعلن لجنة العطاءات بالشركة الوطنية لحفر و صيانة آبار النفط عن رغبتها في شراء
Caterpillar Engine 3508 With Converter PO 18-75-0601
كالتالي :
Item
Req. Qty.
UOI
Description
CAT 3508 ENGINE with T/CONVERTER
1.
4
UNITs
CAT D3508 RIG ENGINE: Direct coupled with C245-125 FH
NATIONAL TORQUE CONVERTER
A.
ENGINE:
Make / Model : Cat D3508
Cooling System : Water Cooled / Radiator
Speed : 1,200 rpm
Power : 680 HP @ 1,200 RPM
Fuel Used : Diesel
No. of Cyinders : V 8
Cycle : 4 Stroke cycle IC engine
Aspiration : TCAC Jacket water
Compression Ratio : 14. 5 is to 1
Bore : 170.00 mm (6. 69″)
Stroke : 190.00 mm (7. 48″)
Application : Rig Floor Engine
FEATURES:
1. Air Inlet System: Heavy duty Air cleaners, dual element,
service indicators, Air inlet adaptors & shut off.
2. Cooling System: Radiator with guard for desert operation
@ 50° C ambient temperature capability with expansion
tank, coolant drain lines with valves, fan belt & guards,
coolant level sensors & coolant level switch guage. Should
be shipped with Cat extended life coolant. Fan should be
blower type. Inform supplier to make sure that we receive
the right size of Radiator intended for Rig Engine D3508
application that would fit in the Rig floor without any problem.
3. Exhaust System: Stainless steel exhaust flex fittings, dry
manifold, flanges face outlet & mufflers with spark arrestor.
4. Fuel system: Primary & secondary fuel filters, with service
indicators, fuel priming pump, flexible fuel lines.
5. Lube System: Lubrication Ol filters, oil level regulator, oil
lines with valves, fumes disposal with lines, gear type lube
oil pump, electronic & air pre-lube oil pump, deep oil sump.
6. Mounting System: Rail mounted floor type. Length to acco-
modate from radiator to Torque converter. Engine & radiator
must be mounted in one skid.
7. Starting System: 24 Volts Starting motor, 45 amperes
Charging alternator, batteries with racks & cable, disconnect
switch & barring device. Flywheel & flywheel housing
SAE 00 to fit with C245-125 FH National Torque Converter.
8. Governing System: Hydra Mechanical Governor 3161L
9. Shut off system : Engine should have Hydra Mechanical Shut
OFF Protection for LOW Oil Pressure, Low water level,
High Water temperature, OVER CRANK & Overspeed
Engine RPM can be controlled from Driller's Console.
10. With lifting eyes
11. Instrument panel should be right hand mounted
12. Filters should be cartridge type
13. Air Actuated Governor Control
AIR ACTUATOR
ROD END – BALL BEARING
KIT – ACTUATOR (Includes lever, cover,
bearing, push rod, diaphragm)
KIT – DIAPHRAGM (Include brng. & diaphragm)
B
TORQUE CONVERTER
1 Brand : NATIONAL
2. Model : C245 – 125 FH
3. Include Shock mounted oil temperatrure & pressure gauge,
with circulating pump, cooling connections, heavy output
shaft & bearings, with the following arrangement type:
– Arrangement for direct mounting on SAE # 00 Engine
flywheel housing complete with spline drive & support
plates & heat exchanger with cooling system.
C
General:
– Include other optional features for our selection
– Engine RPM and Emergency Shutoff can be controlled from driller console
– Each engine assembly should have a separate Oilfield skid with
Rubber mounting capable of towing & skidding as it should
be used on Mobile Rigs.
– The engine should be permanently mounted on the skid
& does not require to be removed from skid during every
Rig move.
– The unit should exactly replace the existing Cat D379 engine
complete with Torque Converter.
– The engine should be Brand new & of USA origin
– The new Cat D3508 with Torque Converter should be
applicable to be used for Oil well 1600 Compound Drive
Serial No. H37 -26 or H 37 -28
– Include Test Certificate, Certificate of conformance, Warranty
Certficate & any other needed documentations
– Complete with Service & user Manual with CD ROM – 7sets
::::::::::::::::::: NOTHING FOLLOWS::::::::::::::::::::::
Terms & Conditions:

BID CLOSING DATE: 30 Days from 25/03/2019

CIF Tripoli, by Sea Port or by Courier (if can be accommodated) – complete with Insurance.

Delivery Time: Including Transit Period to Tripoli.

Validity of Offer: 30 to 60 days.

Name of Manufacturer & Country of Origin: Required.
Terms of Payment: Negotiable.

Total Order Value: Including all ancillary charges i.e, insurance, legalization of documents, courier fee for original invoice documentations required when making request for payment and for the legalization, packing, documentations etc.).
In case of alternative offer other than we required, it is necessary to provide as detailed specs and catalogs for easy evaluation.


Offer must be submitted in two (2) sealed envelopes with red paraffin wax: one (1) Technical Offer & one (1) Commercial Offer properly labeled with complete description for the Attention of:
Head Tender Committee.
National Oil Wells Drilling & Work over Company.
Swani Road Km. 13 El Krimiyah
P.O. Box 1106
Tripoli, Libya
Tel No. 00218 21 5670701 to 05.